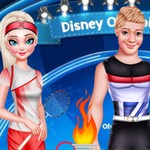 Disney Olympic
The Queen and the King are not only interested in the development of the kingdom, but also in the health of the people. They decided to host the Disney Olympics and everyone could join. Elsa, Moana, and Kristoff also participated. But they need your help to find the perfect outfit in the Disney Olympic online at Abcya games.
The Olympic Games always get attention from the whole world. Queen and King of Disney kingdom also care about this big event. They not only concern about the development of the kingdom but also the health of their people.
Then, they decided to hold their own Disney Olympic at Abcya games for girls that everyone can join in, even princesses and princes. Anna, Moana, and Kristoff also compete with their favorite sport.
Anna is going to participate in badminton, Moana is going to join the equestrian event and Kristoff is going to take part in weightlifting. However, the day of competition is approaching, but they haven't chosen a suitable outfit.
They really need your help now. Your objective in this game is to pick out the best outfit for each of them which suit each sport. Go with them to the shopping center and complete your mission now. For Anna, the store offers 5 latest trending outfits for her.
You simply pick out the best one at ABC ya game. Besides, Anna also needs a high-quality badminton racket, a knee protector, a headband, and a great pair of shoes. She looks perfect now. For Moana, after she gets a suitable outfit with your help, because she will ride a horse, so she needs to protect her head with a helmet.
A pair of shoes and gloves that have been chosen for her is ready. Kristoff can't be messy when lifting weights. Besides to a pair of shoes and knee protectors, he looks for a neat outfit and a belt. Bring all for him now. Well, that's it. They feel confident to win the champion. Good luck to them.
Meet Disney princesses again at these following games at http://abcya3.net/ such as Frozen Sisters Cruise Affair and Disney Princesses Drawing Party.
Controls:
Use left click to play the game.
abcya3.net
Rating:
4
out of
5
based on
18
user ratings