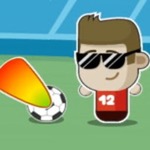 Footstar
In order to become a great football player, you must go through the hard training process. It doesn't only depend on your talent but also the practice. Let's climb to the top of the world of football by conquering the training course in Footstar online game at http://abcya3.net/. After passing through this process, surely you will able to be a football star.
This game has a simple rule. Its gameplay like the famous Angry Birds as you hit the ball into the goal by adjusting the right angle and strength. Yes, it's all that you need to do. There are in a total of 30 levels waiting for you to discover with the difficulty increases as you level up. In each level, you have to kick the ball into the goal and collect at least one star to unlock the next level. Winning the abcya game completely depends on the angle and power of the kick. You have to adjust accurately.
Sometimes, you earn star but miss the shot while sometimes, you can kick the ball into the goal but without a star. There are two mandatory requirements in the game that you must meet which are collect stars and kick the ball into the goal. How to meet these requirements? You do it by practicing. Practice makes perfect. Aim at the goal, shoot the ball, pass all levels and become a superstar in the world of football.
Nothing stops you to make it come true. Good luck! More sports games are waiting for you. Let's explore Running Back and 10 Shot Soccer now.
How to play: Aim and shoot by using your left mouse.
abcya3.net
Rating:
5
out of
5
based on
2
user ratings