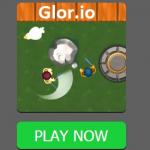 Glor.io
By your own in the middle of the dreadful woods, all you have is your sword and dreams of glory. In this great multiplayer online Glor.io game you must craft different resources such as wood, stone and food, in order to build walls, helpful units and other structures that will help you survive and level up to become the mightiest player on the field. Try to establish your own camp and fight off strong wild animals and other players trying to attack you. ¡Enjoy Glorio!
Controls: Arrows / WASD = move, Mouse = attack / craft / build, Enter = chat
Are you ready to live alone in a toxic forest with no food, water and house? If you want to know your adaptability, jump into Glor.io – an interesting multiplayer action game for all ages at ABCya. Is it attractive enough for you? Explore and experience the most attractive battle right away!
To start this game, you can choose some modes such as bed (You can grow carrots on the bed), Guards (Defends the area you place him on), or Mercenary (Follows wherever you go and helps in everything) and so on. In this dangerous forest, your biggest mission is to defeat waves of monsters, collect much food, wood, stone and gold along the way. Take advantage of every opportunity to gather energy and attack the monsters until they run out of energy in the battle.
An important note for you is that you should not attack the monster that is bigger than you, because you are sure to be a victim. Their energy sources are bigger than you, so its lifetime is longer. Don't forget to build tower defense and house in strategic locations in the forest. Have fun at Abcya Games!
abcya3.net
Rating:
4.7727272727273
out of
5
based on
66
user ratings