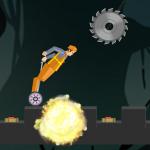 Happy Wheels
Your life is a mess and you are feeling very angry? Are you looking for a game to relieve this emotion? No doubt! Play Happy Wheels has created for you.

The Happy Wheels is a bloody game that is very violent for children. Therefore, you should consider carefully before deciding to play this game. In this game, your biggest mission is to control a character in a wheelchair wisely, overcome all dangerous challenges and avoid being killed on the way. Try your best to keep the balance of your character and run as far as possible in the game. Note that, this game will appear many horrible and violent pictures. Therefore, make sure that you want to join in this brutal game. Share this game with your friends & let's experience at…..

How to play?
When it comes to games, there's a fairly solid division between those that are good and those that are bad. Good games control well, have a great story, and are a great deal of fun. Bad games are, well, bad - there's something wrong with the game that makes it less than fun to play. Happy Wheels, however, is neither. It is a genuinely horrible game that is, somehow, addictive. It does everything wrong, but that somehow makes it just that much more fun to play.

Happy Wheels puts you in control of a person riding one of several vehicles. The game looks awful - it's pretty much mobile clip art. You go along an obstacle course, trying to make it to the end. If you hit an obstacle, you'll suffer some kind of damage - usually bloody and over the top. Your goal is to make it to the end without either crashing or being dismembered. The problem, of course, is that the controls are imprecise and it's hard to judge most of what you'll do. If you judge the game on a purely objective level, it's awful. Somehow, though, it's just silly fun. The fact that you'll repeatedly dismember your poor avatar become hilarious over time, especially when the damage happens due to something outside of your control.
Z = Eject, SPACE = Primary Action, Shift & Control = Secondary actions.
abcya3.net
Rating:
4.5021276595745
out of
5
based on
235
user ratings