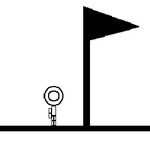 OvO
Why not try playing OvO online games at online abcya 3 to discover something new for the jump. You will be attracted for the first time. Let's get started now to enjoy the fun in this game.
Our boy will go through a challenging journey, on the road, there are dangerous traps. Help him pass the traps and many obstacles on the way by running fast and jumping, sliding and diving. Using the above skills will help you overcome the challenge easily. Continue so and help him to the endpoint of the flag.
The game at http://abcya3.net/ is very simple. It is not too difficult for you if you have mastered the rules of the game. Do not worry too much, each level has detailed instructions so you know how to pass. As long as you look good, you can easily pass this game. Use the exact jump, because the obstacles are very high.
You will run fast to jump and continue the journey. The game has many levels. The level will be more difficult for the player to experience. How many levels will you pass in this game? It all depends on your ingenuity. Help him become a professional and skillful athlete. The game helps you practice better observation.
You will be relaxed in this game. Try to win the game with the shortest time to be setting a record. Invite your friends to play and do not forget to share with them the fun in this game. And if you love games, play some other similar games like Ninja Defender and Gun Club Shooter. Have a great time!
How To Play: Use the arrow keys to play
abcya3.net
Rating:
4.3333333333333
out of
5
based on
9
user ratings