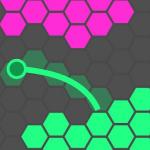 Superhex.io
Superhex.io is a remake of Splix.io but with hexa-directions to move in. Do you know the good old "the bigger, the better"? If so, you should definitely try this new .io game. This multiplayer .io online game reminds me the famous Nafk and ABCya games.
Do you remember Slither.io and Narwhale.io? ABCya3 is only for you. Good luck!
Superhex.io is a tactical game that requires the players to have the necessary skills to conquer it. Rapid reaction skill is all you need in this multiplayer action game at Abcya. Why do I say so? Simply because you will constantly have to avoid the other players at a rapid speed.
Therefore, keep your mind to observe carefully and control your character wisely to occupy as much area as possible in the match. One advice for you is that you should not be too greedy to earn lots of lands because you will easily crash into other opponents in the game. Besides, you should only move in the safe area and avoid going too far from your area. Do not crash your head into the bodies of other opponents or you will die instantly.
Therefore, you also can destroy the enemies by allowing them to touch your body and occupy their land. What are you waiting for? Jump into this attractive battle and prove to the world that you are the best players at io. Games now. Have a great time!
abcya3.net
Rating:
4.6883116883117
out of
5
based on
77
user ratings